FIBC / Big Bag - Filling Systems – Std or application specific – Load cells, bag re-sealer, discharge aids
FIBC / Big Bag - Discharge Systems
Goodtech – PORTABULK - FIBC / Big Bag - Filling, Handling, Coding & labelling, IT Systems, Storage (Representatives for UK & Republic of Ireland)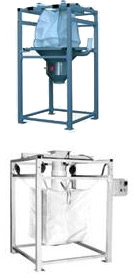 Portabulk Filling Equipment
Find out more about Goodtech Packaging Systems >
For over 20 years, Goodtech Packaging Systems AS has supplied customers throughout the world with cost-effective equipment designed for filling and handling of bulk materials, such as fertiliser, salts, cement and feed.
With a product range comprising equipment for net, gross and automated filling applications, we offer customers a selection of filling lines and accessories fully compatible with PORTABULK FIBCs.
Filling equipment from Goodtech Packaging Systems AS complies with prevailing safety and environmental regulations and filling rates extend up to 150mt/h according to machine, product and FIBC type.